| | |
| --- | --- |
| | |
| | UER Store |
| | sweet UER decals: |
Activity
89 online

Server Time:
2021-09-19 01:08:07

Entry: Exit Device Dogging / Dogging Key
originally posted by grit1

[last edit 4/2/2012 11:46 PM by TeePER - edited 2 times]

---
[entry in progress]

Exit devices, AKA crashbars or panic hardware often have a method of "locking open" the latch bolt through use of a dogging key.

The official tool is typically a piece of hex stock with a circular bend on top, to facilitate attachment to a keyring. Regular hex "allen wrenches" will suffice just fine.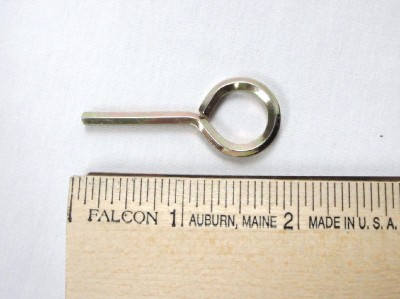 (image from ebay seller fradonlock)

Public buildings with doors that are open during the day are more often than not "dogged" open using such a key. The first person in opens the door from the outside with an authorized key, then activates the exit device and locks it in the unlocked position.

The advantage to us explorers is that [in the US anyway] there are two standard sizes for dogging keys, and using these two "keys" alone we can ensure re-entry into a location [temporarily or permanently] and "create" entrances to buildings during day scouting missions by dogging open emergency exit / back doors.

It should be noted that for this very reason some exit devices employ what is referred to as "keyed dogging", where instead of a generic hex "key" there is a regular lock cylinder tied into the building's key system that is used to lock open the door. Unless a building key is possessed or one has lock picking skill this cannot be bypassed. Still other types of exit devices have no dogging method at all.

However, in many types of panic bar locks, when the above methods cannot be used, the lock can be held closed using a bent piece of metal or strong tape.




In the above image, the dark circular hole approximately 2/3 down the pushbar is the 'keyhole' for a hexagonal dogging key, such as that in the first image.

~Grit, edited by TeePER
Modify this entry | Remove this entry
This thread is in a public category, and can't be made private.
---
All content and images copyright © 2002-2021 UER.CA and respective creators. Graphical Design by Crossfire.
To contact webmaster, or click to email with problems or other questions about this site: UER CONTACT
View Terms of Service | View Privacy Policy | Server colocation provided by Beanfield
This page was generated for you in 62 milliseconds. Since June 23, 2002, a total of 657959008 pages have been generated.