| | |
| --- | --- |
| | |
| | UER Store |
| | sweet UER decals: |
Activity
97 online

Server Time:
2021-09-19 02:50:05

Entry: P100 Mask
originally posted by iq72EfX

[last edit 2/6/2012 3:51 PM by Opheliaism - edited 3 times]

---
P100 is a NIOSH rating for respirator filters. P100 filters have 99.97% efficiency rating, and the "P" in "P100" is for "Oil Proof", regarding resistance to filter efficiency degradation. P100 filters must be color-coded magenta. These filters should be replaced whenever they are damaged, soiled, or causing noticeably increased breathing resistance. Two P100 filters: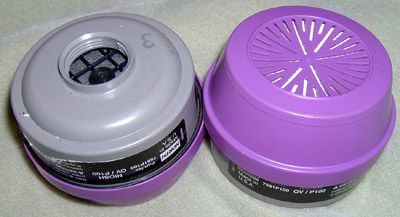 Another example:

Modify this entry | Remove this entry
This thread is in a public category, and can't be made private.
---
All content and images copyright © 2002-2021 UER.CA and respective creators. Graphical Design by Crossfire.
To contact webmaster, or click to email with problems or other questions about this site: UER CONTACT
View Terms of Service | View Privacy Policy | Server colocation provided by Beanfield
This page was generated for you in 108 milliseconds. Since June 23, 2002, a total of 657964162 pages have been generated.